Practicing What We Preach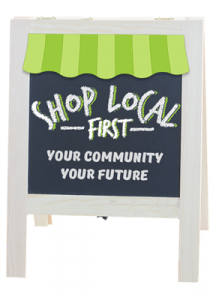 From time to time I am asked how I personally contribute to the tax base since I don't live in Andover. Just a little background for those of you who don't know me. I have lived in Butler County for over 30 years. My husband and I also own a business in Butler County and raised our children here. We have a little spread of 8 acres in the country. Me, being a country girl and my husband a city boy, we have the best of both worlds. When I took the position of President-CEO of the Andover Area Chamber of Commerce, I understood there would be some expectations. The Chamber supports local business by helping them with awareness and providing a plethora of benefits to support the local economy and in turn support the business community. I also know what it is like to own and run your own business. With all of these things in mind, I value...truly value the business community in Andover.
Since coming to this position I shop and patronize local business. Until my thought of doing this blog post, I didn't realize how much and then adding on top of that those businesses that the Chamber works with, it boggles my mind. Can I say I or the Chamber will use every member business in the Andover area? No, because the need may not be there but when the need arises, we will look to our Chamber members first. It may not work out but will sure try.
My pasture needed mowed so my husband and I called Nathan at Andover Rental Center and he fixed us up.
I needed a little house - which we call a "cat house" - for our outside cats and found what we needed at Atwoods - also dog and cat food.
My dentist is now Dr. Howell at Andover Family Dentristry.
My doctor is now Dr. Lindsay Landers at Andover Family Medicine and Kansas Medical Center.
My banking is at INTRUST Bank and Andover State Bank.
We have saved for a kitchen remodel and Nahid Holmes at Design Source Interiors is going to fix us up.
We eat at Hereford House, Timbuktu, Spauldings, Braum's, Gambino's, Metro Bistro plus others in Andover that are not necessarily members but they will be some day
​My chiropractor is Dr. Rachel Viner
My hairdresser is now Vicky Koch at Timeless Trendz.
I buy gas and other items at Casey's
My prescriptions come from Walgreens and Dillons
Took my son into Xpress Wellness Urgent Care
Purchase adult beverages at Andover Wine & Spirits and Flint Hills Wine & Spirits
This is just to name a few that I personally use. As a Chamber, my job is to encourage shopping local and I felt it was important to share that I take "Practicing What I Preach" very seriously. Andover businesses have a lot to offer. Check them out before you go on to other places. It may surprise you!
Thanks for reading...
Becky Wolfe
President-CEO
Andover Area Chamber of Commerce