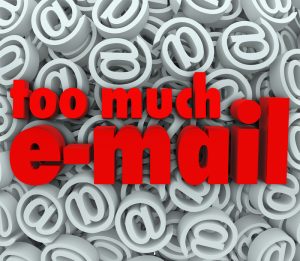 Believe me, I get it...emails are tough, especially when you receive so many. On any given day, I receive over 100. Sorting through and deciphering which are important and which can go in the trash. For me, I am a little nosy (no, probably a LOT nosy) and for my job I have to know what is happening so unless I know for sure that it is spam, I will review each of them. It may not be in the same day but I do what I can.
At the Chamber, we try to keep our members informed on what is happening in the community, with the businesses and organizations and our best course of action at this time is to communicate by email. One of the benefits we offer our members is to be able to allow them to provide information about what is going on in their business and many are utilizing this benefit. Our hope is your business is as well. If not, think about it.
When I first came to this position in 2015, one of the major items stated most by members was the lack of communication to the members from the Chamber. In looking at trends from Chambers across the nation, the majority send out weekly updates and so we began this process. After about a year, we saw some members unsubscribe, which is not a problem but there just may be a deal from another business or an event that could provide your own business exposure. There are also tips and legislative issues included in most emails. Our goal here at the Chamber is not to send you "spam" but to provide you with resources and opportunities to network and build relationships with other businesses in the Andover area. Not everything included will be of benefit to you or your business but there may be just that one thing.
Creating a healthy and thriving business community, awareness of things happening around us is key. The Chamber will not send members spam. All of our emails have a purpose so don't look at it as "just another email" because we may be sending something that could impact your business.
Respectfully,
Becky Wolfe
President-CEO