Making Resolutions in 2019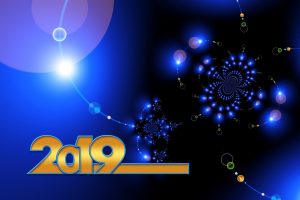 It seems at the beginning of a new year, there is so much talk about New Year's Resolutions ‐ making them, sticking to them, not sticking to them and why we don't stick to them. It is interesting to me that these resolutions are only brought to the forefront during the beginning of the New Year. I wonder what would happen if we touched base with everyone that made these resolutions in a couple of months or 6 months just to see how everyone was doing.
There is so much public focus on news and talk shows, newspapers, blogs, etc. about resolutions but then after the first week or so of the New Year it is not mentioned again until the next New Year.
Making New Year's resolutions is not something I do…or I don't call them "resolutions". I evaluate the goals that I set forth the year before and determine where I am. What goals did I achieve, and which goals do I need to carry forward? While I would love to lose weight, eat healthier and exercise more, these are standard goals on my list and carry over every year because I always want to do those things in my life. I also carry over being a great mom, wife, (now grandma), sister and friend. These goals are all very important to me, but they are also somewhat ambiguous. How much weight do I want to lose? How much healthier do I want to eat?  What makes a great mom and wife/sister/friend?  For me to feel a sense of accomplishment, I have learned to be more specific.  I dig a little deeper within myself to:
Understand why I set the goal in the first place – why is it important
Is my goal feasible or attainable?  Or is it a vision (a lofty idea)?
Create steps to achieve the goal – what can I do to achieve that goal
When you set goals or make "resolutions" be sure you are clear what each goal or resolution means to you. When you set your goals, be specific. "I want to lose 10 pounds in 2019" or "I want to meet my friends for dinner once a month". By being more specific you can clearly see where you are going and what you are achieving and create action steps to accomplish them.
Here's wishing everyone a wonderful 2019.
***Becky Wolfe is a leadership development master facilitator with over 25 years of experience teaching leadership, working with nonprofits and companies in leadership, strategic planning, visioning and board development. She is an alumnus, Champion and served on the advisory committee for the Kansas Leadership Center and continues to work with them on various projects. Becky currently serves as the President-CEO of the Andover Area Chamber of Commerce in Andover Kansas and continues to serve on several nonprofit boards through the State of Kansas.