Where Are Robert's Rules?
Using Robert's Rules of Order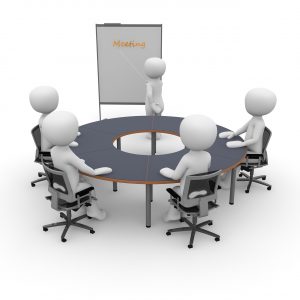 A few years ago, I had a conversation with several high school students who were all serving on student council boards throughout the state. They were interested in discussing board meeting procedures and roles of the members on the boards.  In this workshop, the students had a lot of questions on how to preside over meetings when there seemed to be a lot of chaos and very little structure.  We spent time talking about Robert's Rules of Order and the use of Parliamentary Procedures. They seemed to soak up the information. They didn't have much information about this form of governance and wanted to use what they learned right away. The conversations and questions these students brought forth had me think about the meetings I attend. I realized the use of Robert's Rules of Order is not always utilized in the meetings I attend and if they are used it is minimal and not always used correctly.
Robert's Rules of Order were developed in the 1800's by Henry Martyn Robert when people from different countries (non- legislative bodies) were brought together and had their own idea of parliamentary law.  Robert's Rules of Order gave them common structure when they came together.
All boards and committees, for profit and not for profit use some form or variation of Robert's Rules in their meetings. Many of us serve or have served on a board or a committee. I attend approximately 200 meetings a year on average and in most cases the Board Chairs conduct the meetings and motions are made on the issues at hand but little of Robert's Rules of Order are visible beyond that.  Is it because we are getting complacent in our board work or is because we don't have the knowledge?
I believe we should do what we can to make meetings enjoyable and not boring.  You want people to keep attending. When I work with boards on board development and mention Robert's Rules of Order, there are times I see this expression on some faces where their eyes glaze over and I can just imagine they are thinking "boring".  I explain that using Parliamentary Procedures doesn't mean the meetings have to be boring. Using Robert's Rules creates a mutual understanding of the members on how the meetings are conducted.  It is a respect for the process and respect for the other members present.
As a member, do you address the Board Chair when you want to make a comment with "Madam Chairman or Mr. President"? Are you familiar with making a motion in the correct manner and when and why a motion is needed?  Some of these procedures do not fit with the organization you work with and it is the decision of your group whether to adopt Robert's Rules of Order.  If you choose to adopt any or all these rules, necessary bylaw changes may need to take place.
Becoming familiar with Parliamentary Procedures will only help you become more informed with your role as a board or committee member and it will ultimately give you more knowledge as you continue to work in your communities.
***Becky Wolfe is a leadership development master facilitator with over 25 years of experience teaching leadership, working with nonprofits and companies in leadership, strategic planning, visioning and board development. She is an alumnus, Champion and served on the advisory committee for the Kansas Leadership Center and continues to work with them on various projects. Becky currently serves as the President-CEO of the Andover Area Chamber of Commerce in Andover Kansas and continues to serve on several nonprofit boards through the State of Kansas.