What I Learned from Visiting Another Community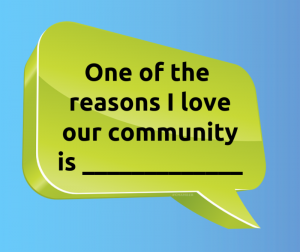 Sometimes it takes going to another city to really appreciate what is right here at home. I had the opportunity to visit my son in Salt Lake City. The population there is a little over 200,000 people but there are many sub-communities. You know, those where you can't tell you are in another community? Some may feel this way about Andover and its proximity to Wichita. Travel in Salt Lake is mostly on freeways - busy freeways. Don't get me wrong, Salt Lake is a wonderful area and is growing. I saw many new buildings and housing going up. Their downtown is very nice and attractive. It was good to come back to a calmer commute to where ever I need to be. As you can tell, I'm just not a big city girl.
I was fortunate enough to go to my son's place of work, which is Kindig It Designs (they do a custom restoration show on Velocity or MotorTrend I think it is now). This business is definitely off the beaten path and is very discreet. Because of the type of business they do, they don't feel the need to be on a main street. They get their business from word of mouth and I'm sure their show doesn't hurt. Dave and his wife Charity, along with the manager Kevin (or KevDogg) started the business by working on small jobs, just Dave and Kevin doing the custom work and Charity managing the office. They provide great customer service and are loyal to their employees.
Where I am going with this is we tend to take for granted what we have in our own backyard. The Andover area is a great place to be but it may not be for everyone. Our business community continues to be strong, our residential community continues to expand and we have great family entertainment through many avenues. As a Chamber, we encourage doing business with member investors as they invest in the community through the Chamber.