Host a Coffee & Conversations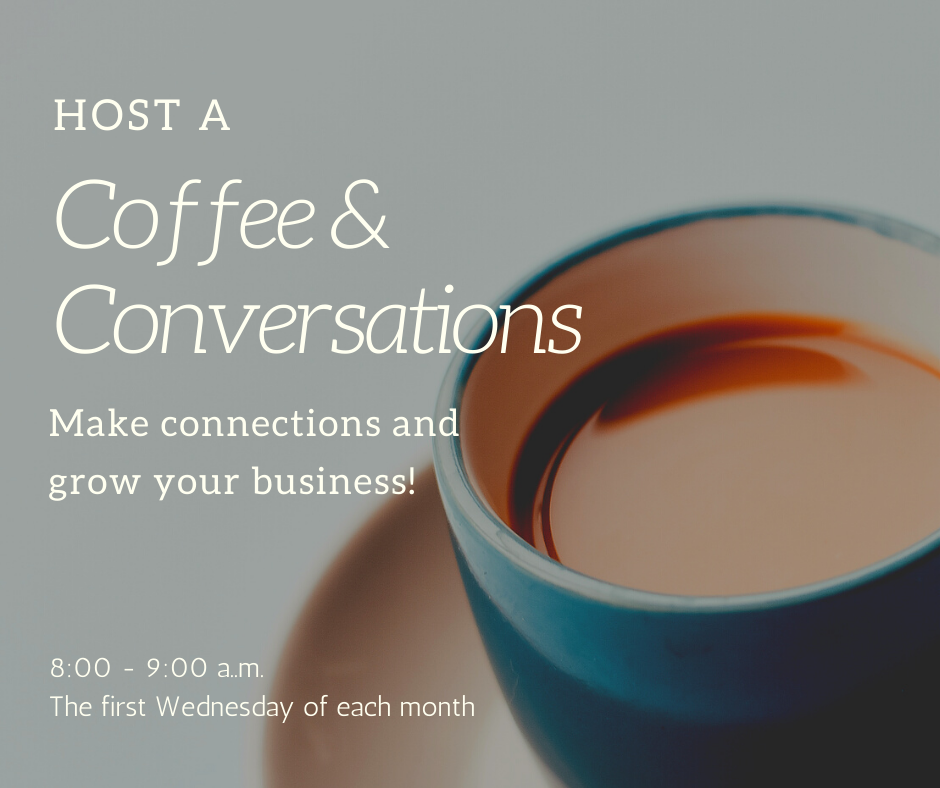 Coffee & Conversatons Co-Hosting Guidelines
A Coffee & Conversations is a monthly networking event for members of the Andover Chamber of Commerce and all of their employees.  This is a great opportunity for you and your business representatives to network with other members of the Andover area business community.  At these events, new connections can be made to build professional relationships.
Coffee & Conversations events are held on the first Wednesday of each month from 8:00 - 9:00 a.m.  Each Coffee & Conversations is co-hosted by the business and the Andover Chamber of Commerce.
BUSINESS HOST BENEFITS
It is easy and cost effective to co-host one of the 12 Coffee & Conversations events.  Secure the month in which you would like to co-host by contacting the Chamber.
Perfect way to showcase your business and distribute information about the products and services you offer.
Co-host will have the opportunity to address the group at 8:00 a.m. for a short presentation about your business.
Prepare a tour plan for your business – not everyone will show at the same time and may need to plan on a few tours.
Publicity will take place to include your logo – through weekly email blasts, Chamber website, and social media.
CHAMBER RESPONSIBILITIES
Design invitation for the Coffee & Conversations event to include business logo and brief business description.
Send invitation to all Chamber members and encourage attendance.
Announce event at other events for the Chamber of Commerce.
Provide the coffee, danish and other materials needed for the event.
If you want to send a personal note in the mail to the Chamber membership, labels can be provided to your business at no charge – at least 2 weeks notification for this benefit.
Ambassadors will be on hand to meet and greet.
The Chamber will provide tickets for any drawings and hand out.
BUSINESS HOST RESPONSIBILITIES
Prepare for the possibility of 30-50 people – adequate parking, etc.
Provide a raffle item for attendees.
You are encouraged to publicize, publicize, publicize – Make personal contact with area businesses to encourage them to attend.
Submit a 30-50 word description of your business to be included in the invitation and other publicity.