Understanding Generational Cultures in the Workplace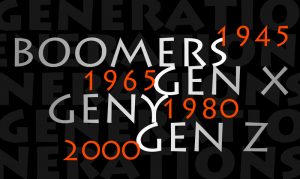 This is the first time in history when FOUR different generations are in the workforce. It is unique, exciting and can be quite challenging if we don't understand these generations.
We communicate based on our generational background and in these times, we must understand that no group, business or organization will fit one generation exactly. In order to work within these generational characteristics, we must understand how they relate to each other. Below are some characteristics for each generation for a better understanding. The dates are approximations as it depends which documentation you view.
The GREATEST Generation (Born 1901-1924 approximately)
This generation experienced the Great Depression, fought and won World War II and they built the strongest economy in our history. They value financial security, patriotism, the power of institutions and they respect authority. When working with the GREATEST generation, it is important to focus on tradition and helping others. They value personal responsibility, duty, truth, honor and faith.
The SILENT Generation (Born 1925-1945 approximately)
The SILENT Generation grew up in the military draft and they came of age during the Cold War. They had a long period of social stability and they consider work a privilege. This generation values loyalty, self-sacrifice, intense patriotism and faith in institutions. It is important to focus on tradition, loyalty to key issues and joint work ethics when working with the SILENT Generation.
The Baby Boomers (Born 1946-1964 approximately)
The largest generation in history (Millennials have recently surpassed the Baby Boomers). This generation grew up in huge social change but to a wealthy nation. The Baby Boomers are the first generation to openly rebel against the government and they were often overindulged by their parents. There is a sense of entitlement and they can be cynical about institutions. When working with the Baby Boomer generation, there needs to understand their value to the team and publicly recognize them whenever possible. They do believe that hard work and sacrifice are the price to pay for success while thriving on the possibility of change.
Generation X (Board 1965-1980 approximately)
This generation has always worked in the shadow of the boomers. They are interested in stability but that doesn't translate into staying with one company or organization. Gen X'ers are confident and focused on their career path. They value independence and informality, being self reliant and having a desire for stability. Working with this generation, it is important to focus on their value to teamwork, to independent thinking and their work-life balance.
Generation Y or Millennials (Born 1981-2002 approximately)
This generation has surpassed the Baby Boomers as the largest generation in history. This is the first generation to be born to a true high-tech society. They are civic minded and they value structure and more than any other generation, they have had a diverse educational experience. Gen Y's are also the first generation to go to school with people of all disabilities and ethnic diversities. With this generation, the focus should be on the good work they can do and provide recognition of that good work. They also value team work, balanced life and are very optimistic.
These are very exciting times in which we live. Being aware of the generational cultures within our society is key to accomplishing many things. Be aware of the values of each of the generations and it could bridge a gap between the different generations.
Resources for this article: K-State Research and Extension on board development